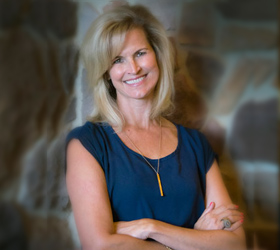 Answers to Your Room Design Questions
Looking for advice from an expert? We can help you find the right design solution for your flooring project.
Q: What floor covering would be most practical in a bathroom?

Tile flooring that is slip resistant.
Q: How do I transition different types of flooring from one room to another?

A threshold cover is used when there are height changes in the flooring. Consult with your flooring specialist about a more decorative transition that can be designed depending on your specific type of flooring.
Q: How can I use flooring to make a room appear larger?

By installing tile on the "diagonal" and by selecting lighter colors that have a more consistent texture will visually increase the space.
Q: If I drop something on my ceramic tile floor is it going to break the tile?

Ceramic tile is a very durable flooring product when installed correctly. What will most likely happen is the item you drop, a plate or glass, will break while the tile may just suffer a chip or crack.
Q: Is porcelain tile more expensive than ceramic tile?

Yes. Porcelain tile is more expensive because it is a higher quality product. Porcelain is an extremely hard and non porous product. It has a water absorption rate of less than 0.5 percent making it very stain resistant.
Q: Can I use a semi or high gloss ceramic tile on my kitchen countertop?

Yes, you can use a semi or high gloss ceramic tile on your countertop but be aware that scratches will be more visible with a semi or high gloss finish.
Q: Can ceramic tiles be used outdoors?

Yes, but be sure to select a tile that is unglazed, frost proof and has an absorption rate of less than 0.5 percent. Unglazed tiles offer greater resistance to slippage.
Q: Should I seal my natural stone?

I strongly recommend that you seal all of your natural stone to provide maximum stain protection. Select a high quality penetrating/impregnating sealer. These sealers will provide a natural, no-sheen look and are good for interior and exterior use.
Q: What does "COF" mean?

"COF" stands for Coefficient of Friction". COF is a test used to measure the friction or slippage of a tile. The measurements are important factors to consider when evaluating a tile's slip resistance. However, other factors can also affect slip resistance such as a person's type of shoe, the degree of wear on that shoe and the presence of water or dirt on the tile's surface.
Q: Should I seal my grout?

Sealing your grout with a penetrating/impregnating grout sealer will help prevent moisture absorption that can cause stains. Sealing your grout will also make your regular cleanings easier. Grout sealer will need to be reapplied so check the manufacturer's specific directions.
Q: What is the difference between sanded and unsanded grout?

Sanded grout is used on tile with a grout joint width equal to or greater than 1/8 of an inch. Unsanded grout is used on tile with a grout joint width less than 1/8 of an inch and is recommended for use with polished natural stone products due to the narrow grout joints customarily preferred.
Q: Is there a major difference in material and cost of the various solid surface countertop companies?

There are differences in the formulation of the materials and their compositions. Some solid surfaces are 100% man-made and some are blended with natural quartz and stones. Prices vary but are pretty consistent and typically include installation. Once you select the countertop material which complements the design and style of your kitchen, be sure to ask about maintenance and warranty of the product.
Q: Can I cut on my granite countertops?

Granite is the hardest material used in commercial and residential applications but I recommend always using a cutting board.
Q: Can I use marble on my kitchen countertops?

Although marble has a beautiful look, I would only recommend marble on a kitchen countertop if it was used in a small quantity for rolling out dough for baking. Marble is a very soft stone and will stain easily. Better applications for marble would be fireplace surrounds, walls, flooring or in bathrooms on shower/tub and vanities.
Q: What countertops are most resistant to salmonella and other germs?

A non porous countertop like quartz is going to be most resistant to germs and bacteria.
Q: Do granite countertops have to be sealed?

Yes. Granite can be permanently stained by cooking oils and grease, can be etched by the acids in such common household products as hairspray and other toiletries.
Q: Can hot pots be placed directly on granite or quartz countertops?

No. Granite countertops should be sealed and hot pots will burn the protective sealer on the countertops. Though the quartz surface can briefly tolerate moderate temperatures for a brief time, it too can be damaged by high heat and prolonged exposure to heat. Use a hot pad or trivet when placing a hot pan on either surface.
Q: Why are backsplashes important?

Backsplashes are not just for decorative purposes. They also protect the walls from grease that can stain drywall and painted finishes.
Q: What is the recommended size for a walk in shower?

The recommended size for a shower is 36"x36". Showers are only required to be 30"x30".
Q: What is the proper height for a bench or seat in a shower?

Shower benches and seats should be 17"-19" above the shower floor and 15" deep.
Q: Do all showers have to have shower doors?

In order to have a shower without a door the shower should be at least 5'x'8.
Q: What accessories are available in showers and tubs?

Accessories than can be installed or built into the shower include: soap dishes, corner shelves, portable seats, towel bars, shower niches and shower benches.